BOOT 'N BLISTER REUNION TRIP, SEPTEMBER 20-22, 2002
WARNER MOUNTAINS OVERNIGHT BACKPACK
Trip Sheet
Read the Trip Plan. This is an Adobe Acrobat PDF file that contains text, a topo map, and two driving maps.
Background
I mentioned a possible hike to the Sierra for this year but Ron came up with this idea that seems much better. Let's do it! --Mike

From: Ron Barager (runbear@hdo.net)

Another suggestion for next year's trip would be Patterson Lake here in the South Warner Wilderness. Here's a challenge for you: I contend that Patterson Lake at 9,000 ft is the highest elevation lake north of Lake Tahoe & south of Canada, west of the continental divide. I'm sure you'd be the one to confirm or shoot this down. Let's use the minimum requirement that a "lake" has to be at least an acre & be perennial. Patterson is a six-mile hike each way from the Pepperdine Trailhead at 6,800 feet or so, at the north end of the wilderness. It's a deep, glacier-formed lake and is considered the crown jewel of Modoc's high country. Pepperdine is 20 miles via county roads and gravel forest roads from Alturas. The campground at the trailhead has water, toilets, tables, campfire rings, and usually is almost empty so would make a great base camp. From many points along the trail you can see into Oregon, Nevada's great basin, Mt. Shasta, Lassen Peak and the Modoc Plateau. Janet and I first backpacked the South Warner Wilderness in 1970 so it certainly qualifies as "old B&B stomping grounds." Alturas is a 3 1/2 hour drive from Redding via 299, or a 3 1/2 hour drive from Reno via 395. The 7 1/2 minute topographic quad is Warren Peak. After Labor Day and before hunting season would be the best time. In 1998 it snowed a foot at the lake on September 29, so maybe mid September would be the best target date, or possibly "Tour of Yreka Time" (bicycle race) which was September 19-21 in 1975 [we'll do it September 20-22, 2002, mfd].

--Ron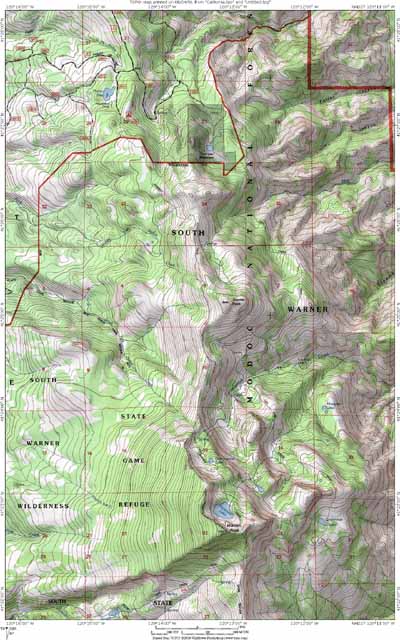 Driving
Rick Robinson provided the next two items that he got from the Forest Service:

DIRECTIONS TO PEPPERDINE CAMPGROUND

Getting There: 13 miles east of Alturas on County Road no. 56 to the Modoc National Forest Boundary, then another 6 miles on Forest Road 42N31 (Parker Creek Road), then south on the Pepperdine access road.
Fire
NEWS RELEASE

Contact: Hilary Ford 530-233-8846
Nancy Gardner 530-233-8713 Fire Restrictions to Begin on the Forest
ALTURAS, CA July 19, 2002

At midnight, August 4 the Modoc National Forest will implement Fire Restrictions. With the recent outbreak of fires occurring across the country, high temperatures, and dry forest fuels it is evident that restrictions are needed to reduce the possibility of human cause fires on the forest.

The Energy Release Component (ERC) reflects the drying of forest fuels reaching the 90 percentile. The Modoc National Forest has found that when the ERC's reach the 59 percentile the possibility of an ignition becoming a large fire increases. According to Elizabeth Cavasso, the Forest Fire Management Officer, we are reaching critical ERC levels.

The Plumas and Lassen National Forests have already implemented fire restrictions due to these dangerous conditions.

Under restrictions, campfires can only be used within approved recreation sites and fire safe areas. Portable stoves using gas, jellied petroleum or pressurized fuels are exempt from restrictions. Internal combustion engines can only be used on established road systems and smoking is only allowed within enclosed or approved sites.

The Devil's Garden woodcutting area and South Warner Wilderness will remain free of restrictions at this time. The Modoc National Forest asks that extreme caution be used when cutting wood and using your Forest Lands. Be concerned and protect your Natural Resources.

For further information on fire restrictions, locations of approved sights, and exempt and fire safe areas please contact the Modoc National Forest at (530) 233-5811.
---
Boot 'n Blister Home Page on the Web
---
On the Web, the URL of this page is http://www.diggles.com/bnb/2002/BnB2002a.html
Date created: 08/01/2001
Last modified: 9/16/2005
Send e-mail to Mike (mike@diggles.com)